Look at him humouring me.
I'm not paying attention, because I'm too busy inhaling the wonderful sugared scent.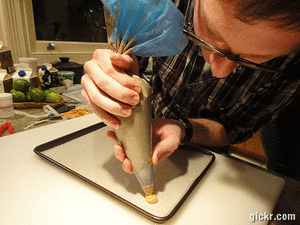 Next, Edd pipes perfect circles of macaron batter, spaced out so they don't merge into some kind of uberon.
Some more successfully than others.
2001: A Cake Odyssey

Crisp shells of delicious almond joy with perfect "feet".

And now Edd whips up the salt caramel ganache for the filling.
Yea, verily, did I stick my face in the caramelly leftovers.

Verily, did I suck the clingfilm dry.
Verily, it was that good.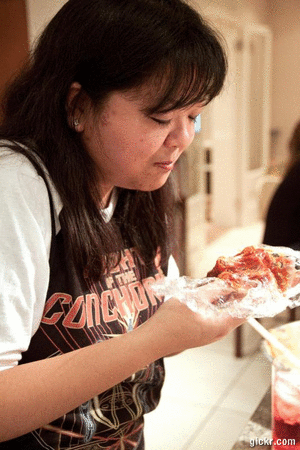 Edd now pipes the filling into each of the macaron shells.
Ta-daa - macarons from heaven.
And we all get doggy bags to take away.


Obviously, I'm being flippant (you know me) - in truth, Edd Kimber's macaron class was brilliant fun and very informative.

Edd's clearly a natural teacher and, most importantly, he understands the limits of a domestic cook and a domestic kitchen.

This was just a trial class, but Edd will be commencing hands-on workshops early next year.

To register your interest, please email Edd Kimber at macarons@theboywhobakes.co.uk with the subject "Macaron Class".
Gif of me stuffing my face inelegantly courtesy of
Simon Kimber